By: Molly Blaker and Sasi Chockalingham, DSAGC Outreach Specialists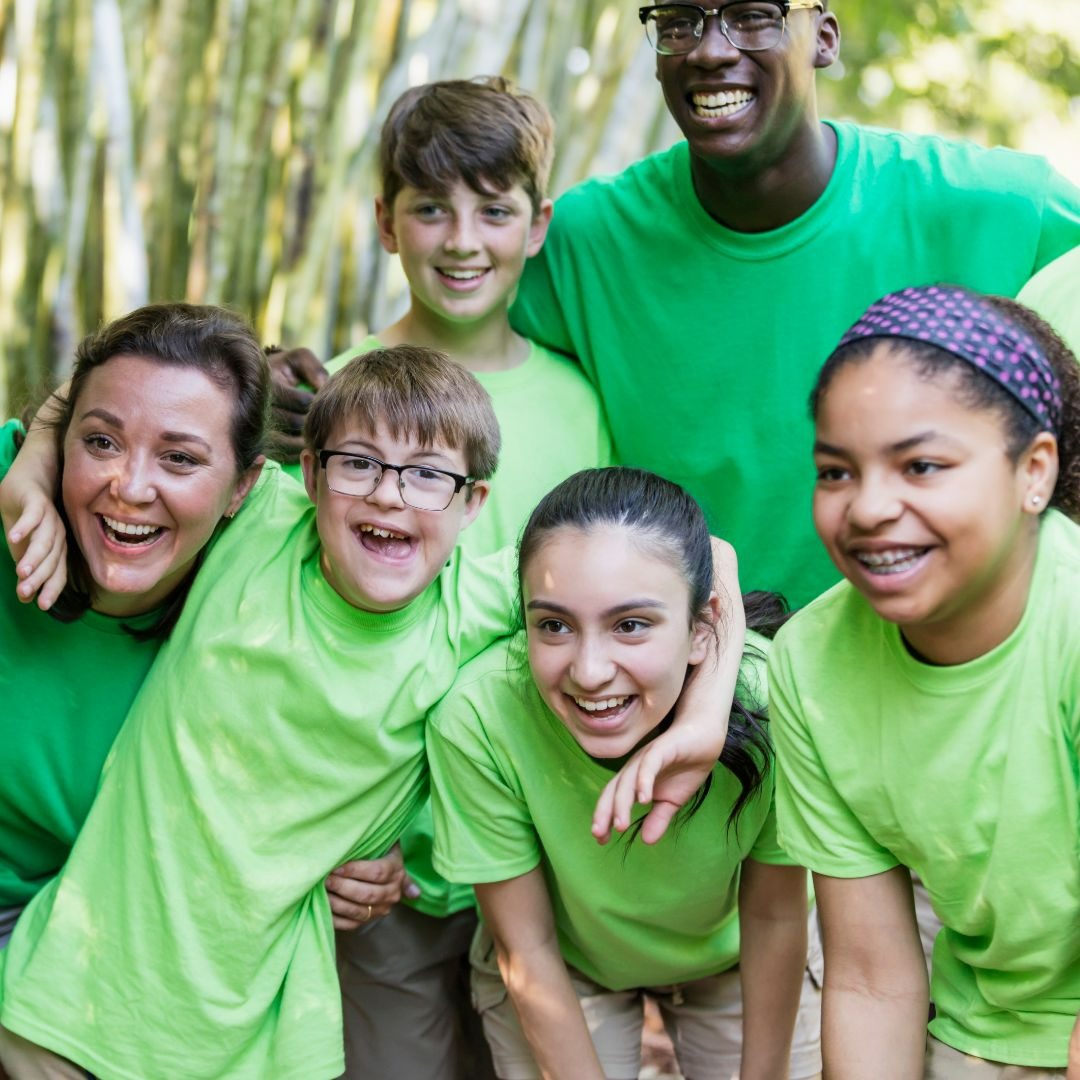 Building friendships, personal growth, learning, and making memories are just some of the benefits of attending summer camp. However, we know that finding summer camps where our families can experience these benefits can be challenging.

Earlier this fall, we (the DSAGC) began talking to local families about their camp experiences. Some families shared wonderful experiences while others shared challenges. Next, we met with local camps to learn about their struggles and strengths. Along the way we learned Hamilton County Development Disabilities Services also desired to help summer camps be accessible for all campers. Through our connections, we were invited to present at the ACA (American Camp Association) southwest cluster. Here, we had the opportunity to share information about campers with Down syndrome and our initial plan to provide support. We've created a more detailed camper information form for families to share with camps, a Down syndrome resource binder for camps to have on hand, as well as a staff training video that can be shared with summer camp employees.

We know outreach efforts take time, so we hope to reach more camps each year! In the future, we anticipate hearing more success stories where all campers experience growth and the magic of summer camp. Please take a look at some of the resources we've complied and reach out if you have any questions.

Click here to view Summer Camp Resources
Additional Camper Information Form
Financial Support for Camp
Tips for Considering Camps
Local Camp Details
Our programs focus on therapeutic, recreational, educational, and social opportunities for all ages and stages. We tailor our offerings to reflect the need of our local families as we strive to provide valuable support and quality programs for those in our community.
PREVIEW OF SPRING 2023 PROGRAMS
March • April • May • June
registration opens March 1st at 7 pm
Early Matters
AGES 0 - 5
Music Therapy
Swim Camp
New Parent Welcome Brunch
The Lucky Few Party
Mom/Grandma Art Night
Donuts with Dad/Grandpa
Reptile Encounter
Play with the Pros
Respite Care
Wednesday Playgroup
School-Age
AGES 6 - 12
Listen and Create
Movement and Dance
321 Jazzercize
Swim Camp
iCan Bike Camp
Tutoring
Rockin' Social
Play with the Pros
IEP Consults in Highland Co.
Respite Care
Virtual (cooking, baking, bingo)
Teens
AGES 13 - 17
Theatre Program
Intro to Golf
Swim Camp
321 Jazzercize
iCan Bike Camp
Tutoring
Teen Club Socials
Play with the Pros
IEP Consults in Highland Co.
Transition Training (OH & KY)
Respite Care
Virtual (cooking, baking, bingo)
Young Adult
AGES 18 - 34
Learning Labs: Reading*
Baking with Tablespoon
Self-Defense
Social Club Party
Media Production Club
Find Your Way Consults
Kindness Krew Volunteer Days
Employment Skills
Bowling Social
Healthy Living Series
March Madness Party
Karaoke
Let's Tackle Transportation
Reds Hall of Fame Tour
Singles Mixer
Virtual (cooking, baking, bingo, creative expression)
Adult
AGES 35 & up
Adaptative Cooking
Game Night
Healthy Aging with Dr. Wang and Clarissa Rentz
Sunday Crafternoons
Movement and Motivation
Self-Defense
Social Club Party
Media Production Club
Find Your Way Consults
Kindness Krew Volunteer Days
Employment Skills
Bowling Social
Healthy Living Series
March Madness Party
Karaoke
Let's Tackle Transportation
Reds Hall of Fame Tour
Singles Mixer
Virtual (cooking, baking, bingo, creative expression)
World Down Syndrome Day 5K/10K/Kids Fun Run
Sunday, March 26
Winton Woods
We will be celebrating our friends, colleagues, and family members at our annual 5K/10K on Sunday, March 26th at Winton Woods.
5K, 10K and Sleepy Sunday participants receive a long sleeve, dri-fit shirt!
The Kids Fun Run is a short distance sprint and each kid receives an official race shirt.
What is Sleepy Sunday? You don't have to run or walk with us in order to celebrate World Down Syndrome Day. Simply, sign up as a Sleepy Sunday participant and still receive a race shirt....and you can sleep in on race day!
Online registration closes March 22. You must be registered by March 9 to be guaranteed a race shirt.
NDSS Adult Summit is coming to Cincinnati
November 9 - 11, 2023
Hyatt Regency Cincinnati
We are excited to partner with the National Down Syndrome Society for their annual Adult Summit this year! Hundreds from across the country will be coming to Cincinnati for three days of connection and educational sessions on a variety of topics that address adulthood and aging for the community.
The NDSS Adult Summit covers aging and Down syndrome through a whole-person, comprehensive approach. Content will overlap ages and subject areas, providing attendees with information and practical resources. This conference is a great educational opportunity for individuals with Down syndrome and other disabilities, family members, and professionals. 
Separate interactive breakout session tracks for adults with Down syndrome and caregivers/professionals will be available throughout the weekend.
Save 30% on your registration fee with code: DSAGC
early bird pricing ends May 1
Information, Interest, and Input
We want to hear from YOU!
We consistently work to enhance the quality of our programs and services. To do so, we rely on information, interest, and input from our local community.
Please take our brief questionnaire to help us better serve you. All information shared with us remains confidential.
Each person who fills out the questionnaire will be mailed a DSAGC magnet.
Community Groups
Community Groups provide support, information, and be a resource while creating a warm, welcoming, empathetic environment. We have a wide variety of groups by area and interest.
Learn more
Social Clubs
Social Clubs meet monthly and serve as an opportunity for our adults with Down syndrome to take a leadership role in planning and implementing their own social activities.
Learn more
Teen Club
Our Teen Club is designed for teens to meet monthly for additional social and learning opportunities.
Learn more
DS/ASD Support Group
In an effort to support families with loved ones who have or who suspect to have a dual diagnosis of Down syndrome and autism (ASD), the DSAGC offers a support group for parents and caregivers. The goal of this group is to connect families to help support one another by talking through challenges and successes while guided by a qualified group facilitator. Participants can benefit from the facilitator's knowledge of strategies to help in extra stressful situations. They can encourage each other as caregivers and can share and learn firsthand about resources to help in the many stages of this journey.
Transportation Assistance Fund
The DSAGC understands that some members in our community face challenges getting to and from important activities and appointments. To help, we established the Transportation Assistance Fund (TAF). The TAF provides financial assistance to parents or caregivers so they can obtain dependable and convenient transportation to DSAGC programs and events, or medical and therapy appointments for their loved one with Down syndrome.
transportation assistance fund application in english
Hospital Care Packages
We deliver care packages to individuals with Down syndrome who are admitted to the hospital. Our care packages include meal tickets, snacks, cards, activities, books, and more.
Community Participation Fund
We have a limited amount of scholarships available for individuals with Down syndrome to participate in community activities (such as camps, soccer, swim lessons) and therapies. There is also funding available for parents to attend educational meetings or conferences. We pay half of the request (up to $250 per year). You must live within our 12 county area to be eligible.
Down Syndrome Awareness License Plates
Kentucky Residents
Good news! A Down Syndrome Awareness license plate has been approved in Kentucky. Production will start in 2023. If you are interested in purchasing a license plate, please fill out this interest form to get updates!
Ohio Residents
Ohio Down Syndrome Awareness license plates are available for purchase through any Ohio BMV! For every license plate sold, $25 goes back to support advocacy and awareness efforts of the Down Syndrome Associations in Ohio.
Indiana Residents
Down syndrome Awareness license plates can be purchased in person, at any Indiana BMV branch, at a BMV Connect kiosk, or online. To find the plate online, visit the BMV website. Select the plate labeled, "Down Syndrome Indiana".
Happening in the Community
A Conversation on Independent Living
Hi! We are Emily and Mark Kendall. Our three-year-old son Luke has Down syndrome. We think a lot about his future and where he will live. We have the vision, passion and experience to build a community where adults with intellectual disabilities can reside independently while getting the support they need to live their best life. Watch this video more information about us. We would like to hear from you on what your dreams and plans are for where you live currently, where you want to live, and what's important to living your best life. We are inviting you and your family members to join us for dinner and a conversation at the Down Syndrome Association this upcoming March. Choose from one of three options that fits your schedule.
March 2, 6:00 PM | March 7, 6:00 PM | March 9, 6:00 PM
Location: Down Syndrome Association of Greater Cincinnati- 4623 Wesley Avenue, Cincinnati, OH 45212
Please complete this form by February 28, 2023, if you are interested in attending. To ensure everyone can participate effectively, we are inviting 5 – 7 individuals and up to two family members. If you cannot make it to a session and would still like to speak with us, please contact Emily emilyk@empowermeliving.com or Mark markk@empowermeliving.com.

Freeman Center Healthcare Survey
Please help the health care team at the Timothy Freeman, MD, Center for Intellectual and Developmental Disabilities (Freeman Center) at the University of Cincinnati find out what matters to people with Intellectual and Developmental Disabilities (IDD) in our region. This survey is targeted to be completed by individuals with IDD, and they can receive support as best suited for their needs in order to provide feedback. Those involved in services, support, and the overall healthcare for individuals with IDD can also complete the survey. We value diverse feedback and would appreciate your help in wide-spread distribution.
Take the survey

OTPT Transition Services: Thrive Program
Under the supervision and direction of a skilled occupational therapist, participants will engage in group-based outpatient OT sessions focused on personal safety and relationships. Specific content will be determined collaboratively with families and therapist but may include: Knowing how to maintain personal safety at home, identifying a "safety network" of trusted people, recognizing safe and unsafe relationships in person and online. For maximal benefit, caregiver participation is encouraged for this group!
Learn more

Grace RC Connect Group
Grace RC exists to engage, equip and empower individuals with special needs and disabilities as well as their families through the love and grace of God. Grace RC is a place where teens (15+) and young adults get to connect with each other, their faith and abilities, as well as their communities. Friday nights are group-led with an emphasis on developing authentic community and relationships. Different activities and programming will be available each week, as well as community service opportunities. Come for the fun stay for the friends!
Learn more

PigAbilities Meetups
Join Hamilton County Developmental Disabilities Services and Queen City Running Club to get ready for PigAbilities! PigAbilities is a one-mile event during Flying Pig Weekend in May that allows participants and their supporters to run, walk or roll at their own pace and cross the official Flying Pig Marathon Finish Swine! PigAbilities Meetups will cover distances ranging from 0.25 miles to 1 mile, along accessible* routes. We'll provide water, plus a chance to socialize and connect with others.
See schedule and more info
Down Syndrome Association of Greater Cincinnati
4623 Wesley Avenue Suite A | Cincinnati, 45212
5137615400 | dsagc@dsagc.com